Christian Filips
From Ecstasies of Influence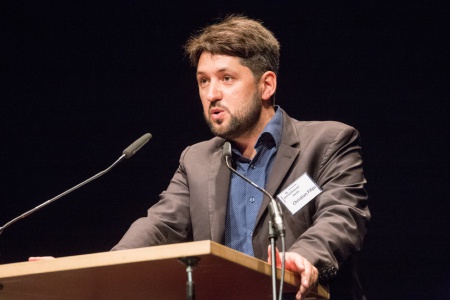 Christian Filips is a German writer, dramaturge, and director. He composed Zungenexerzitium: Ein Bewusstseinsvorgang im Schlaf for Ensemble Extrakte. He is a collaborator with the EoI project in Berlin.
Biography
Translated from Wikipedia:
After attending a European school in Belgium, Filips studied philosophy, German studies and musicology at the University of Vienna from 2000 to 2003 and worked at times as a dance theatre dramaturge at the Staatstheater Darmstadt. In 2001 he received the Rimbaud Prize of the Austrian Broadcasting Corporation for his first volume of poetry "Schluck auf Stein". The early texts prove a strong imprint by the Viennese group.
In 2003, Filips moved to the Free University of Berlin, where he completed his studies in 2008 with a work on Hölderlin's latest poems. From 2003 to 2010, he worked primarily as a music dramaturge and translator, where his Pasolini translations "Dunckler Enthusiasmo" and his work as program director for the Sing-Akademie received more attention.
Since 2010 he has worked increasingly as a director for the theatre. Filip's musical theatre and productions with amateur choir groups, musicians and actors (including Sophie Rois and Volker Spengler) could be seen at Castorf's Berliner Volksbühne, at the Haus der Berliner Festspiele and at the Maxim Gorki Theater.
Currently Filips lives as a freelance author in Berlin. His texts and translations appear mainly in the Swiss publishing house Urs Engeler Editor. Characteristic of his work is a "moving lyrical mixed language," which includes "socio- and dialects, journalistic and professional languages", but also a history-conscious tone of humanities discourses.
Together with Urs Engeler, Filips has been publishing the roughbooks since 2010, a series for contemporary poetry. He works closely with Kai-Uwe Jirka (conductor, choirmaster) and Monika Rinck (author). In addition, Filips works as a translatator, mainly from English, Italian and Dutch.
Biografie
Aus Wikipedia:
Christian Filips (* 22. November 1981 in Osthofen) ist ein deutscher Schriftsteller, Musikdramaturg und Regisseur. Er komponierte Zungenexerzitium: Ein Bewusstseinsvorgang im Schlaf für Ensemble Extrakte.
Nach dem Besuch einer Europäischen Schule in Belgien studierte er von 2000 bis 2003 Philosophie, Germanistik und Musikwissenschaft an der Universität Wien und arbeitete zeitweise als Tanztheaterdramaturg am Staatstheater Darmstadt. Für seinen ersten Gedichtband Schluck auf Stein erhielt er 2001 den Rimbaud-Preis des Österreichischen Rundfunks. Die frühen Texte beweisen eine starke Prägung durch die Wiener Gruppe.
2003 wechselte Filips an die Freie Universität Berlin, an der er 2008 seine Studien mit einer Arbeit zu Hölderlins spätesten Gedichten abschloss. Von 2003 bis 2010 arbeitete er vor allem als Musikdramaturg und Übersetzer, wobei seine Pasolini-Übersetzungen "Dunckler Enthusiasmo" und die Arbeit als Programmleiter für die Sing-Akademie größere Beachtung fanden.
Seit 2010 hat er verstärkt auch als Regisseur für das Theater gearbeitet. Musiktheaterstücke und Aktionen mit Laienchorgruppen, Musikern und Schauspielern (wie Sophie Rois und Volker Spengler) waren u.a. an Castorfs Berliner Volksbühne, am Haus der Berliner Festspiele und am Maxim-Gorki-Theater zu sehen.
Derzeit lebt Filips als freier Autor in Berlin. Seine Texte und Übersetzungen erscheinen vor allem im Schweizer Verlag Urs Engeler Editor. Als kennzeichnend für seine Arbeiten gilt eine "bewegliche lyrische Mischsprache" (NZZ), die "Sozio- und Dialekte, Journalisten- und Fachsprachen", aber auch einen geschichtsbewußten Ton und geisteswissenschaftliche Diskurse mit einbezieht.
Gemeinsam mit Urs Engeler gibt Filips seit 2010 die roughbooks heraus, eine Reihe für zeitgenössische Poesie. Eine enge Zusammenarbeit verbindet ihn mit Kai-Uwe Jirka (Dirigent, Chorleiter) und Monika Rinck (Autorin). Zudem übersetzt Filips, vornehmlich aus dem Englischen, Italienischen und Niederländischen.
Compositions associated with or inspired by Christian Filips
Zungenexerzitium: Ein Bewusstseinsvorgang im Schlaf
Video appearances with EoI
Christians piece 20170912 Berlin rehearsal
Zungenexertitium 20171206 Berlin Rehearsal
Zungenexertitium 20171207 Berlin Rehearsal
Zungenexertitium Explanation 20171202 Berlin Discussion
Zungenexerzitium 20171202 Berlin Rehearsal