Klaus Janek
From Ecstasies of Influence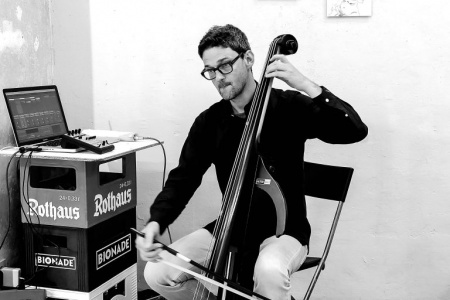 Klaus Janek was born in Italy. He studied classical double bass with M. Muraro and has attended workshops with D.Holland, P.Kowald, Jaribu Shahid.
He explores electroacoustic music and works on sound research on the acoustic and processed doublebass. He also composes music for dance, theatre and opera. He has presented his work at concerts and festivals in EU, USA, Russia, Israel, Canada, China, Malysia and Japan. For more information, check out Klaus' website: http://www.klaus-janek.de
Klaus contributes to EoI in Berlin.
Compositions associated with Klaus Janek:
Video appearances on EoI
Christians piece 20170912 Berlin rehearsal
Glossolalie 20171202 Berlin Rehearsal
Glossolalie 20171206 Berlin Rehearsal
Monikas Gedicht 20170912 Berlin Rehearsal
Sandeeps Piece 20170912 Berlin Rehearsal
Tongues of Stone 20170912 Berlin Rehearsal
Zungenalphabet 20171205 Berlin Rehearsal
Zungenbrecher 20171207 Berlin Rehearsal
Zungenexertitium 20171206 Berlin Rehearsal
Zungenexertitium 20171207 Berlin Rehearsal
Zungenexertitium Explanation 20171202 Berlin Discussion
Zungenexerzitium 20171202 Berlin Rehearsal
Zungenpositionen 20170912 Berlin Rehearsal
Zungenpositionen 20171207 Berlin Rehearsal