Ravi Srinivasan
From Ecstasies of Influence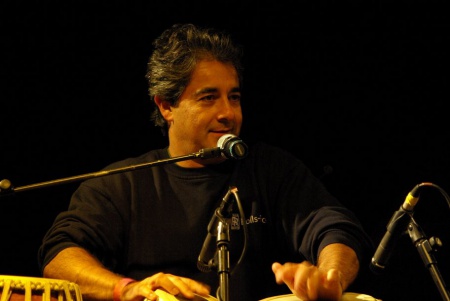 Ravi Srinivasan (Tabla, ghatam, vocals, whistling, percussion, electronics and composition) was born in 1965 in Singapore. His family encouraged his early musical talent and he studied classical violin. Later he came into contact with jazz and world-music and began learning the classical hand-drum of India, the tabla, with the legendary master-drummer Pandit Kamalesh Maitra in Berlin. Ravi's wide-ranging musical abilities and effortless virtuosity have earned him many fans and ensure that he is constantly in demand as a soloist and accompanist. As a prize-winning percussionist he has performed at festivals worldwide, from Malaysia and India via Europe and Russia to USA and Greenland. He has composed music for films, theatre and dance (traditional Kathak as well as modern and fusion) and written songs for his various bands and ensembles.
Ravi is co-founder of the world-music trio Indigo Masala, which won the Creole Worldmusic Prize in 2006, and plays with the Music Ensemble of Benares, Abrasaz, the Ioanna Srinivasan Dance Company, The Hypno Theatre, Dotschy Reinhardt Quartett, the Joachim Gies Trio and countless singers and instrumentalists of classical Indian music. Ravi is the music director at the Academy of Kathak Dance in Berlin, Germany.
Ravi contributes to EoI in Berlin.
Compositions associated with Ravi Srinivasan:
Videos appearances on EoI
Glagolitic script 20171010 Berlin Discussion
Glossolalie 20171202 Berlin Rehearsal
Glossolalie 20171206 Berlin Rehearsal
Monikas Gedicht 20170912 Berlin Rehearsal
Sandeeps Piece 20170912 Berlin Rehearsal
Steine 20171010 Berlin Rehearsal
Tongues of Stone 20170912 Berlin Rehearsal
Zungenbrecher 20171010 Berlin Discussion
Zungenbrecher 20171207 Berlin Rehearsal
Zungenexertitium 20171206 Berlin Rehearsal
Zungenexertitium 20171207 Berlin Rehearsal
Zungenexertitium Explanation 20171202 Berlin Discussion
Zungenexerzitium 20171202 Berlin Rehearsal
Zungenlied 20171010 Berlin Rehearsal1
Zungenpositionen 20170912 Berlin Rehearsal
Zungenpositionen 20171207 Berlin Rehearsal