Sameer Dublay
From Ecstasies of Influence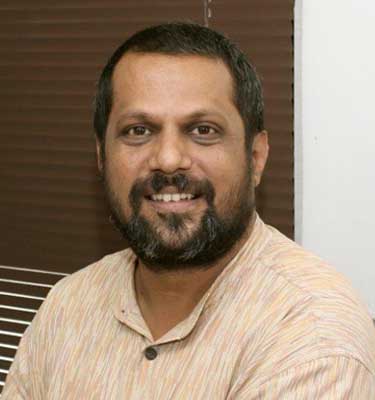 Professor Sameer Dublay, a vocalist in the tradition of Hindustani Classical Music, finished his Masters in Music from Lalit Kala Kendra at Pune University in 1996. He received the Master Dinanath Mangeshkar Scholarship in 1993 and was awarded a fellowship in India Music by the Government of India in 1997. A disciple of Pandit Jitendra Abhisheki, Sameer has been giving solo performances across India. He has also performed overseas in Istanbul, Bangkok, and most recently in the USA. Sameer is considered to be "a passionate and inspired vocalist" in addition to being an articulate commentator on Indian Classical Music.
He has composed music for several plays and is the Founder of "Society for Performing Entrepreneurs and Conscious Training towards Understanding Music," popularly known as SPECTRUM, that conducts sessions on music appreciation. He is now taking further training under Pandit Ashok da. Ranade, Maestro of Gwalior Gharana.
Sameer contributes to EoI in Berlin.
Compositions associated with Sameer Dublay:
Videos appearances on EoI
Glossolalie 20171202 Berlin Rehearsal
Glossolalie 20171206 Berlin Rehearsal
Zungenbrecher 20171207 Berlin Rehearsal
Zungenexertitium 20171207 Berlin Rehearsal
Zungenexertitium Explanation 20171202 Berlin Discussion
Zungenexerzitium 20171202 Berlin Rehearsal
Zungenpositionen 20171207 Berlin Rehearsal