Amelia Cuni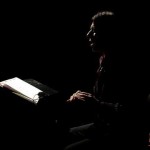 Amelia Cuni was born in Milan and lived in India for more than 10 years learning dhrupad singing from renowned masters (i.e. R. Fahimuddin Dagar and Bidur Mallik, Pt. Dilip Chandra Vedi). She also studied kathak dance and pakhawaj drumming. She received a three year scholarship from the Indian government. Since 1987, she performs internationally: i.e. solo concerts at Nehru Centre in Bombay, Kamani and I.I.C. in N.Delhi, the House of World Cultures, Podewil, Hebbel-Theater, Akademie der Künste and Schauspielhaus in Berlin, Gasteig in Munich, Zentrum f. Kunst u. Medientechnologie in Karlsruhe, Barbican Centre, Institute for Contemporary Arts and Purcell Room in London, Jisbreker and Tropical Museum in Amsterdam, Yerba Buena Center in San Francisco, Filarmonica and Auditorium in Rome, Merkin Hall in NYC, Casa da Musica and Serralves Museum in Porto etc.
She teaches Indian singing at the Conservatorio di Vicenza and at the Universität der Künste in Berlin.
http://www.ameliacuni.de/
Rohan de Saram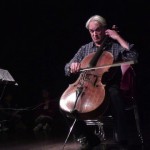 Rohan de Saram was born to Ceylonese parents in Sheffield, Yorkshire, England. At age eleven he studied with Gaspar Cassadó in Siena and Florence. In 1955 at the age of 16 he was the first winner of the Guilhermina Suggia Award, enabling him to study in the UK with Sir John Barbirolli and in Puerto Rico with Pablo Casals. Casals said of him "There are few of his generation that have such gifts". In the following year he won a Harriet Cohen International Music Award.
http://www.rohandesaram.co.uk/
Felix Del Tredici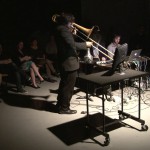 The New York Times has described [Felix] Del Tredici as an "extraordinarily versatile trombonist" who gives performances that are "disturbing yet fascinating" and "hair-raisingly virtuosic". He is a member of Ensemble Échappé, the Fonema Consort, the New York Trombone Consort, and has performed with Ensemble Transmission, Ensemble Signal, and Klangforum Wien. Felix is a research assistant at Matralab, and collaborates closely with the Topological Media Lab.
http://www.felixdeltredici.com/
Lori Freedman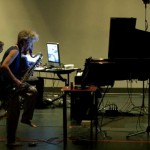 Lori Freedman is known internationally as one of the most provocative and creative performers in the field of contemporary music. Her work includes concert repertoire, improvised and electroacoustic music, and she frequently collaborates with dance, theatre and visual artists. Over 45 composers have written solo bass clarinet music for her, and since 1981 Freedman has been working with an eclectic mix of musicians including Toru Takemitsu, Iva Bittova, Helmut Lachenmann, Joélle Léandre, Mauricio Kagel, Steve Lacy, George Lewis, Richard Barrett, Frances Marie Uitti, Misha Mengleberg, Evan Parker, Mark Dresser, Suzie Ibarra, Fred Frith, Giorgio Magnanensi, Ab Baars, Joe McPhee, Barry Guy, John Oswald, Benny Sluchin, Karl-Heinz Essl, Sandeep Bhagwati, Ana Sokolović, Bernard Falaise, Martin Tétreault, Jean Derome, René Lussier, Rohan de Saram and Diane Labrosse. Her work has been recorded on 28 CDs.
http://www.lorifreedman.com
Dhruba Ghosh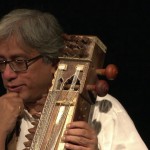 Dhruba Ghosh (Born in Bombay, 1957) teaches and lives in Bombay. He is the son of the great Tabla Legend Nikhil Ghosh, who, besides concerting, wrote also the book "Fundamental of raga, with a new system of notation" (Bombay 1968). Dhruba is also the nephew of the flute player Pannalall Ghosh.
After having studied singing and rhythm with his father, he learned the sarangi from the one and only Sagiruddin Khan himself from the school of Bundu Khan. A remarkable musician, Dhruba contributed to develop the sarangi as a soloing instrument.
http://www.dhrubaghosh.com/
Vinny Golia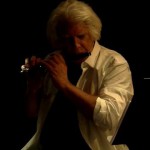 As a composer Vinny Golia fuses the rich heritage of Jazz, contemporary classical and world music into his own unique compositions. Also a bandleader, Golia has presented his music to concert audiences in Europe, Canada, Mexico, Japan, Australia, New Zealand and the United States in ensembles varying dramatically in size and instrumentation. Mr. Golia has won numerous awards as a composer, including grants from The National Endowment of the Arts, The Lila Wallace Commissioning Program, The California Arts Council, Meet the Composer,Clausen Foundation of the Arts, Funds for U.S. Artists and the American Composers Forum. In 1982 he created the on-going 50 piece Vinny Golia Large Ensemble to perform his compositions for chamber orchestra and jazz ensembles.
http://www.vinnygolia.com/
David Rosenboom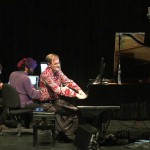 David Rosenboom is a composer, performer, conductor, interdisciplinary artist, author and educator, known as a pioneer in American experimental music. He has explored ideas in his work about the spontaneous evolution of musical forms, languages for improvisation, new techniques in scoring for ensembles, cross-cultural collaborations, performance art, computer music systems, interactive multi-media, compositional algorithms and extended musical interface with the human nervous system since the 1960's. Rosenboom holds the Richard Seaver Distinguished Chair in Music in The Herb Alpert School of Music at California Institute of the Arts where he has been Dean of the School of Music and Conductor of the New Century Players since 1990.
http://davidrosenboom.com/
Mike Svoboda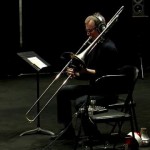 The trombonist and composer Mike Svoboda was born 1960 on the island of Guam, grew up in Chicago and came to Germany with the help of a BMI Award to Young Composers in 1982. His eleven years as trombonist and assistant with Karlheinz Stockhausen during the 80s and 90s proved to be of eminent importance for Svoboda's musical development. Including the collaboration with Stockhausen and other composers such as Peter Eötvös, Helmut Lachenmann, Wolfgang Rihm, Martin Smolka, David Lang, and Frank Zappa, Svoboda has premiered over 400 works for trombone at major festivals throughout the world.
Since 2007 he is professor for contemporary chamber music and trombone at the University of Music in Basel, Switzerland.
http://www.mikesvoboda.net/
Wu Wei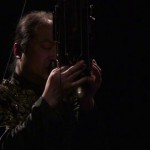 Wu Wei, born 1970 in P.R.China, studied the Sheng at the Shanghai Conservatory and was a soloist with the Shanghai Chinese Orchestra before studying at the Hanns Eisler Academy with a DAAD scholarship in Berlin, where he is now based.
Wei is an avant-garde Sheng soloist. He has helped to develop this four thousand's years old ancient instrument into an innovative force in contemporary music, through the creation of new techniques, expanding the new repertories and integreating different styles and genres.
http://www.wuweimusic.com/