matralab - Concordia
matralab is a research space of inter-x art directed by Sandeep Bhagwati at Concordia University in Montréal. We are dedicated to using interdisciplinary art practice to bridge the gap between emerging art forms and their aesthetic reflection.
Their research is leading to the establishment of a practical and theoretical framework for the creation and evaluation of interdisciplinary, intercultural, intermedia and interactive art.
Sandeep Bhagwati
Project Supervisor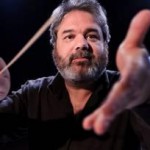 Sandeep Bhagwati is a multiple awardwinning composer, theatre director and media artist. He studied at Mozarteum Salzburg (Austria), Institut de Coordination Acoustique/Musique IRCAM Paris (France) and graduated with a Diplom in Composition from Hochschule für Musik und Theater München (Germany) His compositions and comprovisations in all genres (including 6 operas) have been performed by leading performers at leading venues and festivals worldwide. He has directed international music festivals and intercultural exchange projects with Indian and Chinese musicians and leading new music ensembles. He was a Professor of Composition at Karlsruhe Music University, and Composer-in-Residence at the IRCAM Paris, ZKM Center for Arts and Media Karlsruhe, Beethoven Orchestra Bonn, Institute for Electronic Music Graz, CalArts Los Angeles, Heidelberg University and Tchaikovsky Conservatory Moscow. He also was a guest professor at Heidelberg University in 2009 and has been invited as a visiting research fellow to the University of Arts Berlin in 2013/14.
As Canada Research Chair for Inter-X Arts at Concordia University Montréal since 2006 he currently directs matralab, a research/creation center for intercultural and interdisciplinary arts. His current work centers on comprovisation, intertraditional aesthetics, the aesthetics of interdisciplinarity, gestural theatre, sonic theatre and interactive visual and nonvisual scores. From 2008 to 2011, he also was the director of Hexagram Concordia, a centre for research-creation in media arts with a faculty of 45 artist-researchers and extensive state-of-the-art facilities. Since 2013, he also is the artistic director and conductor of Ensemble Extrakte Berlin.
Jen Reimer
Project Coordinator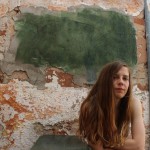 Jen Reimer is a sound artist and performer based in Montréal. Her work explores urban soundscapes and resonant spaces through site-specific composition, performances and installations. She has curated and presented her work in numerous abandoned and public spaces in Montréal and abroad. She received a Bachelor of Music in composition and performance from the University of Alberta, a Graduate Diploma in music performance studies from Concordia University in Montréal
Adam Basanta
Research Coordinator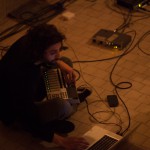 Adam Basanta is a composer and media artist, whose work traverses electroacoustic, acoustic and mixed composition, audiovisual installations, and interactive laptop performance. His work often explores aspects of listening, cross-modal perception, unorthodox performance practices, and the articulation of site and space.
He holds a BFA from Simon Fraser University, where he studied extensively with Barry Truax, and is currently an MA candidate at Concordia University, supervised by Sandeep Bhagwati and Chris Salter.
Joseph Browne
Software Development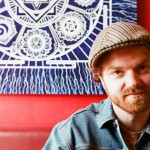 Joseph Browne is a musician, composer, and new media artist based in Montreal.
His work encompasses: sound design for theatre and film, audio production, interactive design, computer music and performance.
Julian Stein
Software Development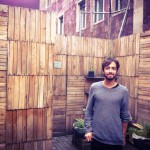 Julian Stein is a composer and sound artist currently residing in Montréal, QC. His work often explores musical applications of the everyday with a large focus on intuition and present-experience. Exploring both composed and realtime environments, his work has ranged from multichannel composition and theatre sound-design to collaborative performance and kinetic sound installation. In specific, his work is interested by methods of audio-visual synchronization, phonetics, animal communication, and the urban environment.