"UPHONIAS: SOUNDS AND FUTURE ENVIRONMENTS" Symposium @ Fine Arts Black Box
Fine Arts Black Box, Concordia University, EV S3-845
March 06, 2015
9 -17 h
In response to Montréal Nouvelles Musiques' 2015 festival theme "Surroundings and New Technology", matralab hosts a one-day symposium focused on utopian ideas about sound art in landscape contexts.
For more information visit: http://matralab.hexagram.ca/uphonias
Invited artists and theorists present posters of utopian environmental sound art projects and discuss the possibilities of art practices that insert sound into environmental settings. Ten posters will be presented and discussed around the following themes: Les Grands Uphonias, Uphonian Sanctuaries, Irksome Uphonias and Poetics of Uphonia. See the detailed schedule below and the selected posters here.
The symposium also includes a keynote by Walter Boudreau and a performance of matralab guest artist Julian Klein's piece "Interpreters IV" by The Montréal Sound. 
Full Schedule: UPHONIAS – Sounds and Future Environments
9:00 Arrival of participants (tea, coffee, croissants) and poster exhibition opening
9:30 Opening greetings and introductions by Sandeep Bhagwati, matralab Director and Adam Basanta, matralab Research Co-ordinator
9:45 LES GRANDS UPHONIAS
9:45 Grande Symphonie Portuaire (Keynote: Walter Boudreau)
10:10 Tectonic Harp (Nicolas Reeves)
10:35 The Breath of the Earth (Lorella Abenavoli)
11:00 Break and poster exhibition 
11:15 UPHONIAN SANCTUARIES
11:15 Green Corridor Pocket (Gustavo + Gaelyn Aguilar)
11:40 Untitled (Ariel Bustamante)
12:05 Dix Travaux (Steve Giasson)
12:30 Lunch
13:45 IRKSOME UPHONIAS
13:45 Border Blasters (Jason Charney)
14:10 Risveglio di un Pianeta (Sandeep Bhagwati)
14:35 The Total Sonic Immersion (Jean François Primeau)
15:00 Break and poster exhibition 
15:15 PERFORMANCE of Julian Klein's "Interpreters IV" by The Montréal Sound
15:40 POETICS OF UPHONIA

15:40: The Voiceover (Anastasya Koshkin)
16:05: Dessins d'enregistrement (Mario Côté)
16:30 Closing discussion until 17:00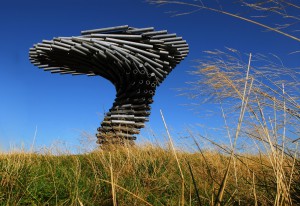 Singing Ringing Tree, Tonkin Liu, Architecture Art Landscape