CRYSTAL INTERFACE @ Espace Cercle Carré
EXHIBITION WEEKEND @ ESPACE CERCLE CARRÉ
36 rue Queen H3C 2N5VERNISSAGE: SATURDAY APRIL 2nd 2016, 1900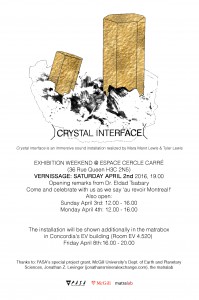 Also showing at ESPACE CERCLE CARRÉ:
Sunday April 3rd: 12.00 – 16.00
Monday April 4th: 12.00 – 16.00
The installation will be shown additionally in the matrabox on Friday April 8, 2016 from 16.00 to 20.00.
About the project:
CRYSTAL INTERFACE is a collaborative sound installation conceptualized and executed by Mara Marxt Lewis and Tyler Lewis. This immersive work is a place for listening, and for physically exploring the visual space created by the artists. A landscape is constructed by combining real geological specimens with fabricated ones, the latter becoming physical sound objects through the use of vibrational transducers. A rhythmic dialogue across a multi-channel audio environment grows out of the sonic interplay between these sculptural entities. Crystals function in both scientific and metaphorical ways, interfacing between the animate and inanimate, the organic and inorganic. Crystal formations may appear lifeless, even as corpses, but they hint at life; its growth and movement. In CRYSTAL INTERFACE the active sound environment becomes the life of the crystals, the individual crystal sound objects forming a compound sonic space.