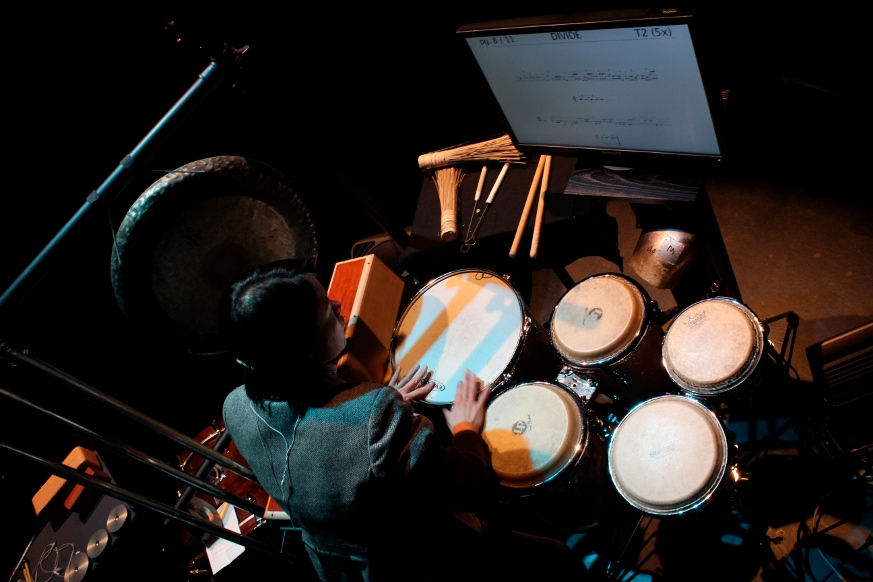 2011 "Alien Lands" Music performance in four movements for four spatially dispersed percussionists with interactive scores. Commissioned by the Festival Montréal Nouvelles Musiques for "Bye Bye Butterfly" Percussion Quartet.
Description
Alien Lands is a concert light/sound installation that takes the audience into the heart of sonic motion. The concept: musicians from two ensembles are spread in the middle of and around the audience, playing in interaction with real-time computer-generated scores, spatialized sounds, and Jean Gervais' light environments. The title's Alien Lands are strange and unknown landscapes from our inner self, but also "the air of other planets" (Schoenberg) mixed with blurry memories of Indian, African, and Balinese music. Like monochrome photographs, they will pique your curiosity and incite you to explore these imaginary realms of sound.
Each of the 4 movements of Alien Lands for percussion quartet uses a very limited number of instruments that carry the work, each uses one overall sound, one type of movement, one formal structure — and yet the listener can discover riches in its very limitations. All 4 movements are based on a lipogram poem (using only 9 letters of the alphabet) that I wrote in 2001, a poem that has fueled a series of large scale works since then. In all these works, the sequence of the letters in the poem indicates the formal structure — but the way they are interpreted is different each time. In Atavist, the letters govern the distribution of rhythms in space. In Divide, they change the colours of sound in an almost white noise field. In Nested, they are transformed into Indian percussion syllables. In Sentient they steer the evolution of tempi and sounds in space.
This project was generously supported by Société de musique contemporaine du Québec, Conseil des arts et des lettres du Québec (CALQ), Concordia University (Vice President Research and Graduate Studies, Faculty of Fine Arts), Hexagram UQAM, Hexagram Concordia.
Documentation
Video
Audio
Photo
Downloads
Scores
Programs