Description
… ces échos des éloignements éphémères…
Comprovisation for large ensemble in a resonant space (duration 35 minutes)
Videoconcert:
Nouvel Ensemble Moderne / Conductor: Lorraine Vaillancourt
During the lockdowns of 2020 – I was then confined in Zurich, where I knew almost no one – Normand Forget of the Nouvelle Ensemble Moderne (NEM) Montréal reached out to me for an arrangement of a piece I had devised for them in 2008: "Racines Ephémères (Ephemeral Roots)" had been a 60-minute comprovisation score for 8 musicians moving through a resonant space (first performance in the Essl Museum at the Festival Vienna Modern 2008). But for their virtual video concert, Normand asked me for three important modifications. Firstly: moving musicians would not be possible under Covid19-rules. Secondly, it should be for all 16 NEM musicians – so that all could partake in this rare gig during the pandemic. And thirdly, a shorter version – no one would watch a one-hour music video of new music.
This meant: this would be less an arrangement of the 12-year-old score than a complete re-imagining of it. During the genesis of this work between August and December 2020, we were all distanced from each other: the musicians in the space, the audience from the musicians, and I – an ocean away from the musicians and their city.
I thus knew that I had to think about space and music in new ways – the real space of sound, the virtual space of the online experience but also the growing space between us humans – and this on every level – emotional, political, geographical. We move away from one another or are being moved apart – and all the time we yearn to be together again, to be in unison. My composition takes one of the grandest unison pieces ever written – Claude Vivier's …et je reverrai cette ville étrange… – as its point of departure: as my score evolves, the segments of Vivier's unison drift apart, form new entities, are improvised upon, are scattered. When they are put together in a transformed and multiperspectival unison at the end, they express a hope that is similar to Viviers: he had promised himself to see a strange city once more in his lifetime. I hope that all our distances, old and new, may be just ephemeral, passing distractions – and that we can, one day in the future, be near to each other again, in spirit and in body.
The filming with the ensemble and Lorraine Vaillancourt as a playing conductor took place on February 15, 2021, in the old church of the Abbey of Oka – I had only been able to attend one Zoom rehearsal. But the musical and visual result made me very happy. After several online streamings for paying audiences, the NEM has now released this video for everyone.
VIDEO: Abbaye d'Oka, feb. 2021, Nouvel Ensemble Moderne ©NEM
PHOTOS: Abbaye d'Oka, feb. 2021, Alain Beauchesne ©NEM
SCORE (link on image): Sandeep Bhagwati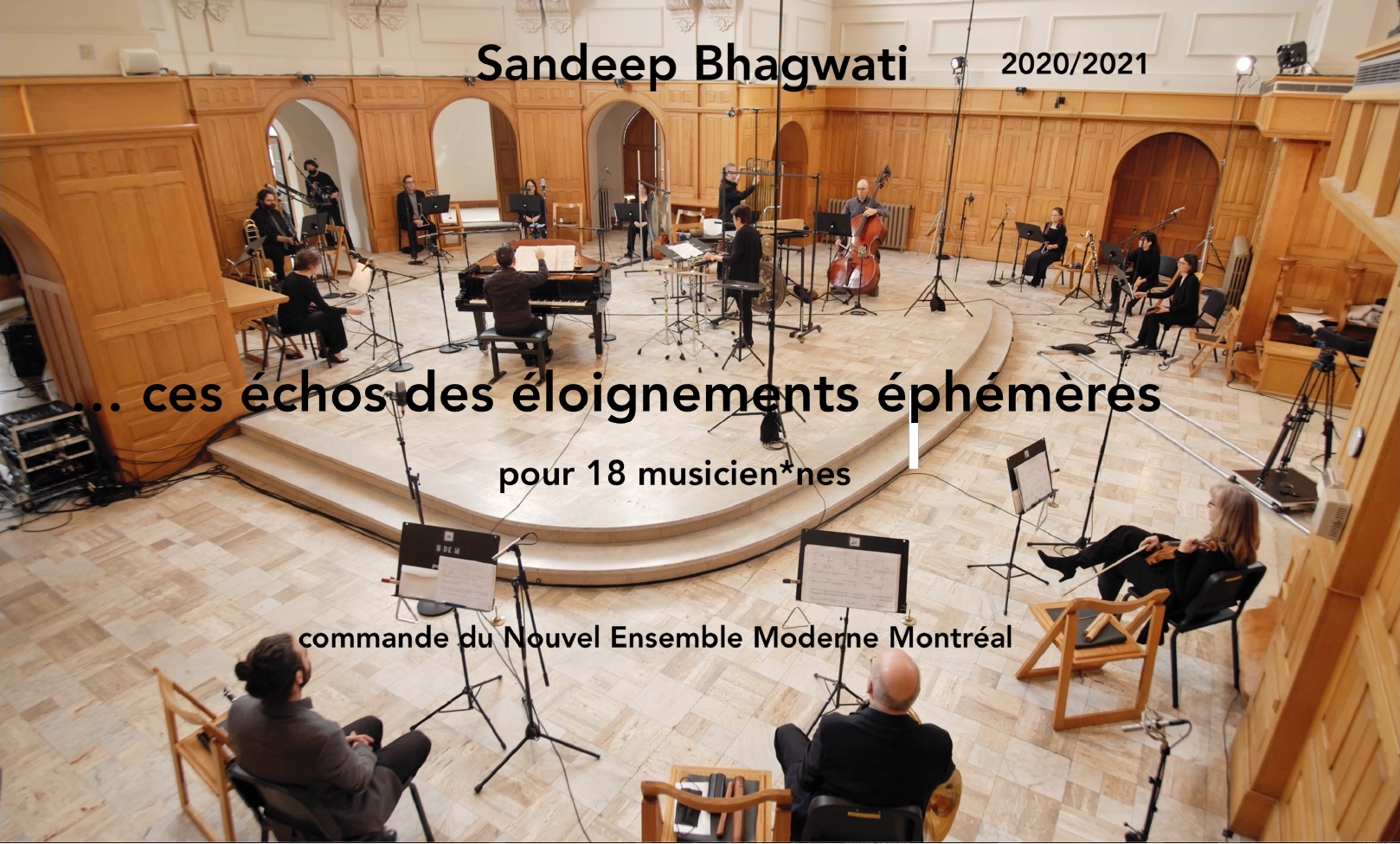 Documentation
Video
Photo