Description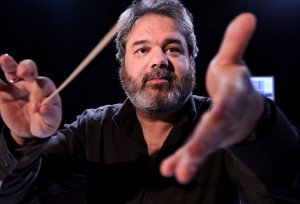 During lockdown almost a year ago I worked on an orchestral score destined for a video-recording, to be played by musicians dispersed in proper pandemic distance throughout a resonant church space.
For this commission by the Nouvel Ensemble Modern, I remembered the first piece I had written for them in 2008, a comprovisation on Claude Vivier's iconic work …and I will once more see this strange city…(1981), premiered at Wien Modern at the time.
The new piece, a 40 minute suite of comprovised and composed movements, again remembering the Vivier piece, but quite differently this time, was filmed and recorded for video in February 2021. And it now will see the light of your screen for only 3 days – from Oct 29-31, 2021. We have almost forgotten that we once had to pay for music, and everyone will admit that this cannot be a healthy state of affairs. So the NEM dares to ask you to pay to see a wonderfully produced video-concert of my first work for orchestra in a decade.
– Sandeep Bhagwati, 2021 –
– WORLD PREMIERE –
… ces échos des éloignements éphémères… is a music creation by composer Sandeep Bhagwati which was first performed by the Nouvel Ensemble Moderne (NEM) at the Oka Abbey (The Abbey of Notre-Dame du Lac, QC).
Program:
* October 29th (20h00), 2021 —> live broadcast
* October 30th & 31th, 2021 —> rebroadcast