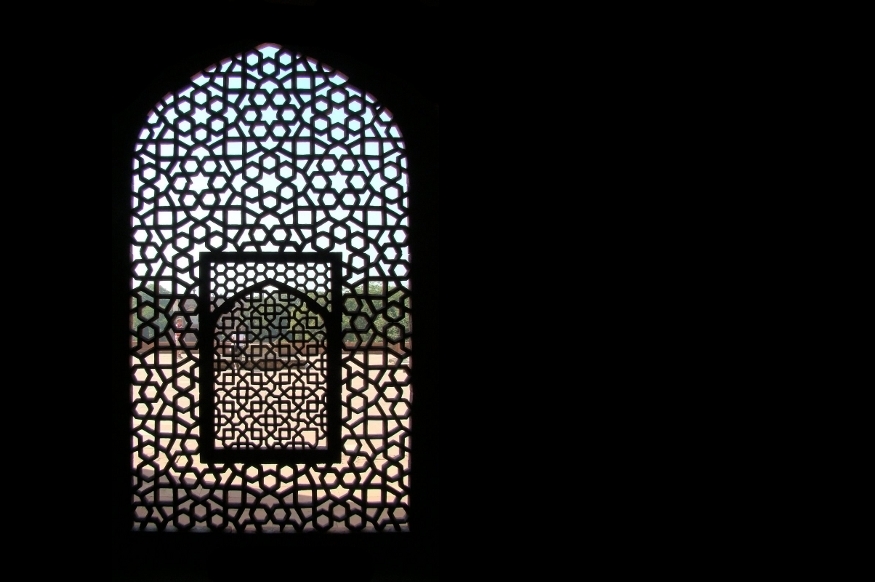 2010 "jaali". Comprovisation for six musicians and screen ensemble. Commissioned by Musik der Jahrhunderts Stuttgart.
Description
"A jaali is the term for a perforated stone or latticed screen used in Islamic architecture as well as in Indian architecture, usually with an ornamental pattern constructed through the use of calligraphy and geometry. Early work was performed by carving into stone, while the Mughals employed the technique of inlay, using marble and semi-precious stones". -Wikipedia
During my childhood travels through Gujarat and Rajasthan with my parents in the 1970s and early 1980s, I always marveled at these unlikely screens – ephemeral transparency set in stone – that were such a prominent feature of the cities, palaces, the royal and holy tombs we visited. I was particularly impressed by one aspect of their creation, again and again stressed by the guides that showed them to us: that they did not permit the masons any mistakes. For each jaali had to be hewn and chiseled and whittled away from a block of marble into an intricate spiderweb of fragile stone filaments – and if in this process the mason's hand would slip even once and damage one of these brittle connections, the mughals would reject the result – and demand a new, a flawless jaali.
This intolerance for mistakes to me also is the true conceit of improvisation- even if improvised music only rarely does turn out to be flawless. Indeed, a surfeit of lackadaisical, careless and incompetent efforts at improvisation has accustomed listeners to being aesthetically embarrassed time and again by the kind of uninspired mayhem that so many musicians try to pass off as improvisation – to the extent that, to too many minds, improvisation has become tantamount to poor craft, poor thinking, and poor execution.
But this is not why improvisation exists – and why so many of the best musicians continue to cherish this creative practice. In particular, there is no hierarchy where Composition would inhabit a higher plane of music invention and Improvisation be but a lowly basement dweller – to me, the salient difference in their approach, the difference that explains all their other differences, is that improvisation permits no mistakes – and that the process of writing down a composition is essentially about backtracing and correcting the many errors and bad ideas that tend to creep in. When you are improvising, there is no redoing a failed attempt, no eraser and no knife: if it does not work right here and now, you must start the whole thing over again – and overcome the chink, the slip, the moment of distraction that dashed your previous bid for a strong and moving work of music.
Downloads
Scores
Programs