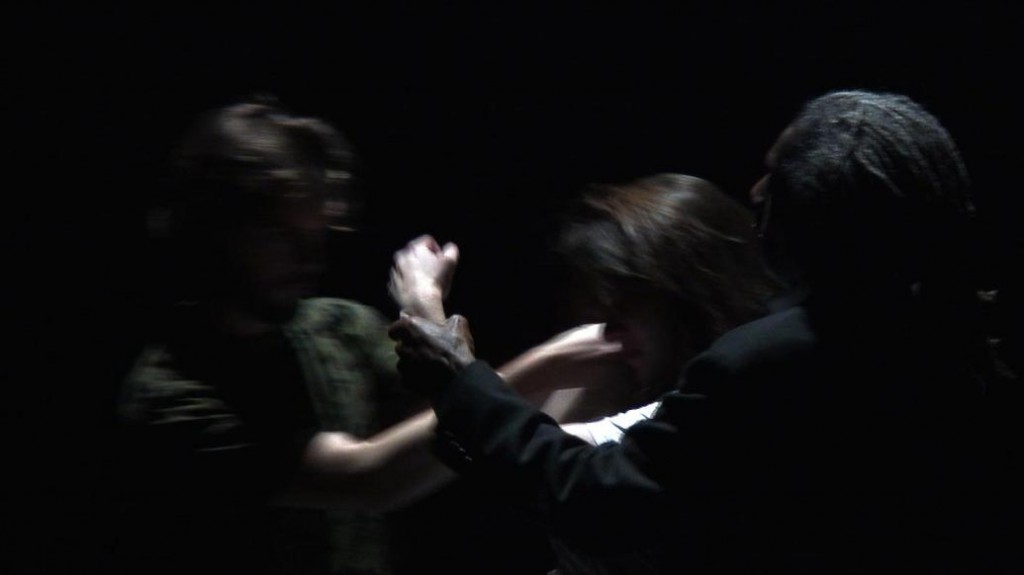 2010 "Lamentations" Experimental Music Theatre combining gestural and vocal approaches to forced displacement of people and cultures. For 6 actors and 6 madrigalists and immersive spaces.
Description
For Lamentations, Canada Research Chair Sandeep Bhagwati and his assistant Florian Götz, helped by a team of actors and persons from the home culture of the interviewees, analyzed dozens of lifestory interviews from the "Lifestories of Montrealers displaced by War, Genocide and other Human Rights Abuses", analysing the multiple ways in which different socially and culturally determined gestures overlap. The intention of Bhagwati and his 4 actors (Vicki Tansey, Stephanie Merulla, Bryan James and Callahan Connor) was to explore the non-verbal, embodied effects of abuse and displacement. About one hundred such gestures were de-contextualized and studied as abstract movements (without sound) by a team of actors and dancers. We wanted to separate verbal and gestural narratives without "unmasking" or "exposing inconstencies" between them, because we strongly believed that gestural material can speak in its own right.
The research leading up to the first part of this project has generated an inter-cultural and hybrid repertoire of hand, eye and shoulder movements which then was used to create an evocative stage performance, re-contextualizing this gestural material together with text fragments. This first part of Lamentations – a Gestural Theatre in the Realm of Shadows theatre performance first took place at Concordia University in November 2009 within the "Remembering Genocide" conference organized by the Lifestories project. A video of the production was made by Karen Zalamea, and was screened at Concordia in February 2010 (see supporting material). The production was variously described as "deeply moving", "unsettling" and "beautiful to watch and hard to forget".