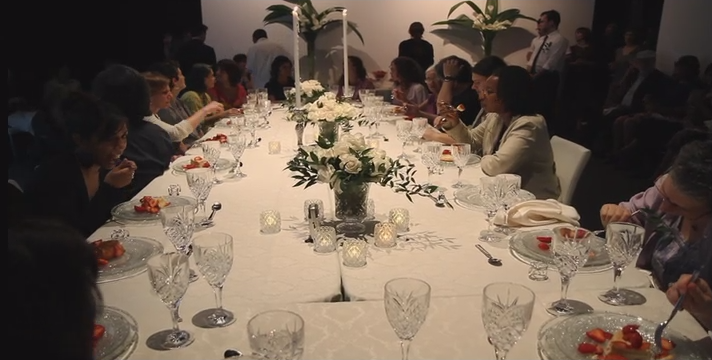 Community art performance. January 23, 2013, Gelber Convention Centre, Montreal.
Description
The Jewish Home Beautiful – Revisited I explores the ambivalent status of beauty and home in identity politics. Set in the background of a celebration of the holiday of Shavuot, this live art performance invited conversation about how the deliberate engagement with beauty and home can on the one hand strengthen intra-cultural alliances, while on the other, perpetuate cycles of violence: in other words, how very often the affirmation of beauty and the settling at home of one population sets into motion homelessness for others. Specifically, The Jewish Home Beautiful – Revisited I intentionally problematized the performance of a beautiful Jewish home in light of the Palestinian Diaspora created by Jews settling in the "Promised Land".
Credits
In collaboration with: Asma Kahn, Nika Khanjani, Vera Kisfalvi, Louise Lachapelle, Jake Moore, Diana Yaros, and Sonia Zylberberg. With the participation of: Emily Paige, Michaela Chandler, Brett Bergmann, Daniella Ansiovini, Fernando Leppe, Matthieu Tremblay, Sandeep Bhagwati, Alice Ming Wai Jim, Émilie Monnet, Marilyn Mosovic, Lisa Ndejuru, Stephen Trepanier, Aleksandra Zajko, Meena Murugesan, Sheila Eskenazi, Shahrzad Arshadi, Léa Neumark-Gaudet, Hourig Attarian, and others.
Documentation by: Geneviève Fortin, Patryk Stacieczek, Abeille Tard, Andrew Harder, and Katie Jung.
This project was made possible in part by funding from The Social Sciences and Humanities Research Council of Canada and the Goddard College Faculty Development Fund.