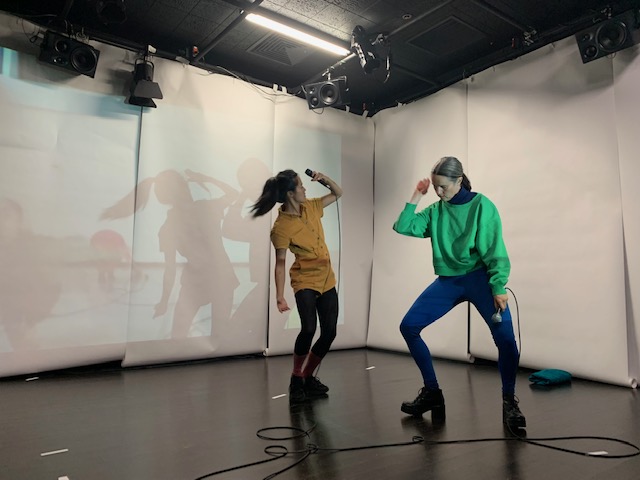 Description
Performed by two dancers in Quebec and two in The Netherlands, Dream Room is a weird composite, like a science fiction story that blends spoken text derived from imagery, music, non-linear video capture, projection and live-streaming. This choreography offers multiple points of view, we wish to create a "dream room" beyond time and space in which spectators are invited to contemplate and imagine.
"We think of the body as a place where the forces of the world are felt. As we sense our bodies, we feel the joy, the violence, and the wonder contained within. As we begin to dance, we close our eyes and feel these forces. We dance images found in our bodies such as fatigue from the pressure of productivity, flying, a punch to the stomach… We dream with our eyes open, navigating through infinite felt senses, welcoming the laughter as much as the fear when it presents itself."
— Katie Ward
Following the declaration of feminist philosopher researcher – Rosi Braidotti 'The myth of Woman is now a vacant lot where different women can play with their subjectivity'. This performance weaves together the personal and subjective contributions of the members of our team. Each offering shapes the ever-changing dance-assemblage called Dream Room.
We are: Kim-Sanh Châu, Aida Guirro Salinas, Yolande Laroche, Marte Bosma, Felice Parqui, Öykü Önde, Gabrielle Couillard, Jodee Allen, Mairéad Filgate, Marie Claire Forté, Gerda van de Kamp, Babsie van Aslderen and in consultation with Julia Willms, we are working to create a dream room, beyond time and space, in which the audience is invited to contemplate and imagine.
We join from across the ocean – connecting via our movement, senses, fiber optic cables, libido, internet waves, flesh, screens, heartfelt listening, blood, bones and microphones. Spectators are invited to sense and imagine these multiple viewpoints and conduits for connection.
Many thanks to: Matra Lab, AXENÉ07, DAIMON, the Canada Council for the Arts, la Machinerie des Arts, Provincie Gelderland, Gemeente Arnhem, and Prins Bernhard Cultuurfonds.