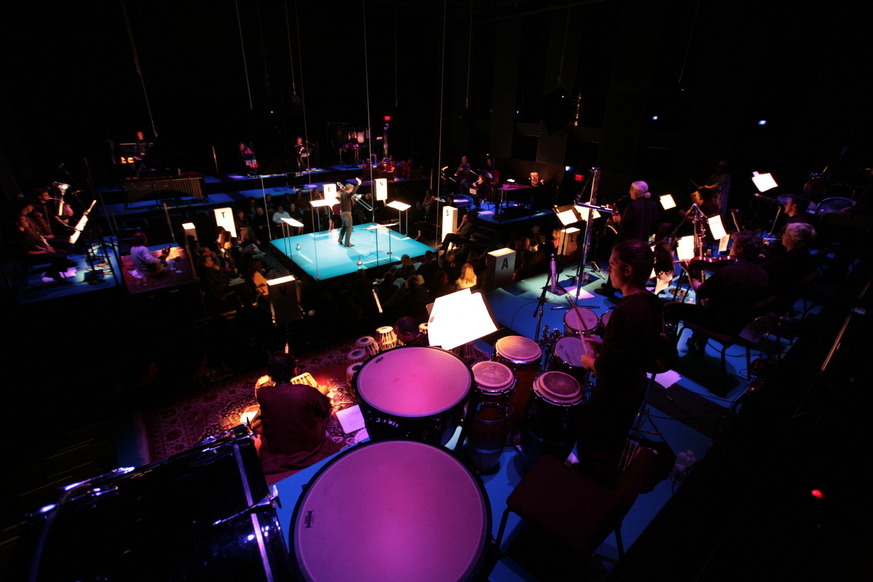 2010 "Vineland Stelae". A full-length structured improvisation for 30 musicians led by Trombonist Mike Svoboda. Presented by the Center for New Performance at CalArts (CNP), in association with the New Century Players.
Description
CNP and the New Century Players invited Bhagwati to create a new piece highlighting their unique resources following the 2005 premiere of his Inside a Native Land, in which a central soloist directed small ensembles around him. Trombone virtuoso Svoboda leads the new composition, which has received significant support from the Multi-Arts Production (MAP) Fund of the Creative Capital Foundation, as well as from Goethe-Institut Los Angeles and Villa Aurora. Svoboda will conduct an ensemble including soloists on tabla, gamelan, prepared piano, trumpet, sarode, marimba, shakuhachi, double bass flute and Ewe drums, and ensembles with Western and non-Western instruments. Soloists include virtuosos in many musical traditions, including Swapan Chaudhuri (tablas), Vinny Golia (double bass flute), David Johnson (marimba), Aashish Khan (sarode), Alfred Ladzekpo (Ewe drums), Vicki Ray (prepared piano), Rachel Rudich (shakuhachi) and I Nyoman Wenten (gamelan).
The performance will be configured in the round, with Svoboda standing in the center of the theater and conducting in a 360 degree rotation. He will be surrounded by the audience—which is, in turn, surrounded by the musicians. Svoboda will interpret the score, which includes music, text, and electronic processing, and lead the interactions among the ensembles, which will vary on a nightly basis. Director Chi-wang Yang will provide a visual landscape that theatricalizes, supports, and augments Bhagwati's inherent musical structure. Scenic design is by Abra Brayman, lighting design is by Lap-chi Chu, and sound design is by John Baffa, in association with Fionnegan Murphy and Martin Gimenez.
Documentation
Audio
Vineland Stelae - I - INVITE
Vineland Stelae - II - STELA I
Vineland Stelae - III - STELA II
Vineland Stelae - IV - STELA III
Vineland Stelae - IX - STELA VI
Vineland Stelae - V - DIVIDE
Vineland Stelae - VI - STELA IV
Vineland Stelae - VII - ALIVE
Vineland Stelae - VIII - STELA V
Vineland Stelae - X - STELA VII / XI - ISLANDS
Vineland Stelae - XII - STELA VIII
Vineland Stelae - XIII - VISTAS
Vineland Stelae - XIV - STELA IX
Photo